Research Team
Gynaecologic Oncology
Our division provides a comprehensive program in both basic and clinical translational research in gynaecologic malignancies. Laboratory research focuses mainly on epidemiologic studies of human papillomavirus (HPV), molecular and "omics" research in gynaecological malignancies. Special interests include identification of novel biomarkers, genetic and epigenetic studies, interactions of signaling pathways, cancer metastasis, cancer stem cells, tumour microenvironment, cancer cell metabolism and immune-oncology etc. Clinical translational research includes the use of new drugs, innovative new therapies including targeted agents, immunotherapy and vaccines, studies of intraoperative lymphatic mapping in cervical and endometrial cancers, and innovative surgical techniques. Collaborative researches are ongoing in novel biomarkers, natural drugs, target-based drug discovery, integrative omics analysis of druggability, clinical trials of novel drugs with overseas and local institutes, as well as other departments in the University of Hong Kong, including Department of Pathology, Department of Clinical Oncology, Department of Psychiatry, Department of Diagnostic Radiology and allied health services including Physiotherapy.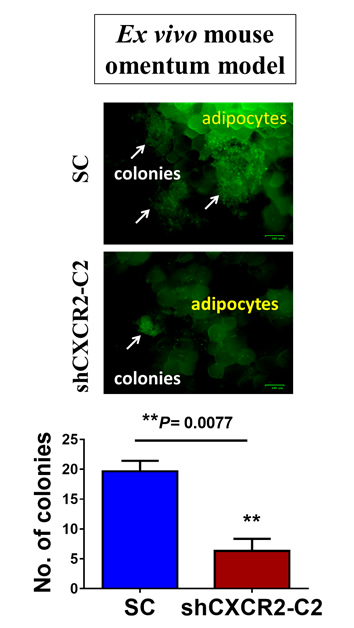 The immunofluorescent analysis shows the knockdown of CXCR2 reduces the capacity of ovarian cancer (GFP-labelled) in omental colonization using the ex vivo mouse omentum model.

The interactions of GRB7 and other partners (SOS2, KRAS and ERBB4) are showed by using in situ PLA assay and confocal microscopy.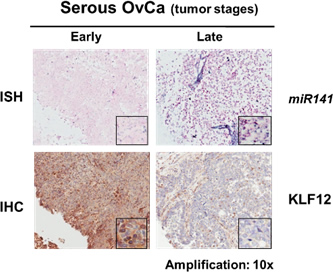 The reciprocal expressions of miR-141 and KLF12 were shown by in situ hybridization (ISH) and immunohistochemical (IHC) analyses in early and advanced serous subtype ovarian cancers.
STAFF FROM THE DIVISION
Clinical
Prof. Hextan Y.S. NGAN, Chair Professor, Department of Obstetrics and Gynaecology, The University of Hong Kong (Accredited gynaecological oncologist)
Dr. Karen K.L. CHAN, Associate Professor, Department of Obstetrics and Gynaecology, The University of Hong Kong (Acreeditaed gynaecological oncologist)
Dr. K.Y. TSE, Clinical Associate Professor, Department of Obstetrics and Gynaecology, The University of Hong Kong (Accredited gynaecological oncologist)
Dr. Mandy M.Y. CHU, Consultant, Department of Obstetrics and Gynaecology, Queen Mary Hospital (Accredited gynaecological oncologist)
Dr. S.F. NGU, Clinical Assistant Professor, Department of Obstetrics and Gynaecology, The University of Hong Kong (Accredited gynaecological oncologist)
Plus
Staff in rotating positions :
1-2 basic/ higher specialist trainee
2 house officers
1 overseas fellow
Nursing
Ms Susanna F.P. HUI, Ward Manager, Department of Obstetrics and Gynaecology, Queen Mary Hospital
Ms L.H. CHAN, Nursing Officer, Nurse Specialist in Stoma Care
Ms Wendy H.Y. Chiu, Advanced Practice Nurse, Palliative Care Nurse
Laboratory
Dr. David W. CHAN, Assistant Professor
Dr. Stephanie S. LIU, Research Officer
Dr. Michelle K.Y. SIU, Research Officer
Dr. Mingo M.H. Yung, Postdoctoral Fellow
Dr. W.S. Chan, Postdoctoral Fellow
Dr. Y.S. Chan, Postdoctoral Fellow
Dr. K.T. Chan, Senior Research Assistant
Mr. Arvin F.S. Chen, Senior Research Assistant
Ms F. HE, Research Assistant
Ms Esther T.Y. LUI, Research Assistant
Clinical Trial Study
Ms Lesley S.K. LAU, Senior Technical Officer
Dr. Tina N. WEI, Senior Technical Officer