Dr. Rachel W.S. CHAN 陳華珊博士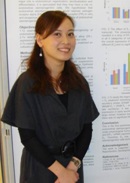 Research Officer

BSc (Melbourne); PhD (Monash)

L7-47, Laboratory block, Faculty of Medicine Building, The University of Hong Kong

(852)-3917-9368

(852)-2819-1947

https://orcid.org/0000-0002-8276-0868
Research Interests
Endometrial Stem Cells
Women's Health
Abnormal Uterine Conditions
Publications
Research Grants
Characterization of Stem/Progenitor Cells in Human Endometriosis. University Grants Committee of Hong Kong (UGC) Research Grants Council (RGC) Earmarked Grant for Research 2007-2008 (Co-Investigator) HK $944,700 (2009-2012).
Understanding Human Endometrial Stem Cell Proliferative and Differentiation Potential. Seed Funding Programme for Basic Research, University of Hong Kong. (Co-Investigator) HK $100,000 (2007-2009).
Mechanism of action of EG-VEGF on human uterine microvascular endothelial cell. Small Project Funding, University of Hong Kong (Principle Investigator) $68,840 (2007)
Professional Activities
Member of Hong Kong Society of Endocrinology, Metabolism & Reproductive Society (2011-present).
Member of European Society of Human Reproduction & Embryology (2009-2012).
Member of Centre of Reproductive, Growth and Development, Hong Kong (2007-present).
Member of International Society for Stem Cell Research (2005-2009, 2013).
Awards and Honors
2006, 2004, 2003 – Top six finalists for New Investigator Award for Society of Reproductive Biology, Australia (for 3 different aspect of work).